About us
Many thanks for visiting our web page.

I sincerely hope you find what you are looking for. Any comments or suggestions you may have will be gratefully received.

M. Moleiro is the most prestigious company in the world specialised in the reproduction of codices, maps and works of art usually made on parchment, vellum, paper, papyrus… between the 8th and 16th centuries in the form, in most instances, of illuminated books. The techniques employed in reproducing the codices, combined with the wisdom and skilled craftsmanship of our trade, enable us to remain very faithful to the original. Bound in leather tanned using the methods of years past and reproduced on special, hand-made paper, our codices reproduce all the nuances of the paintings, parchment, gold and silver leaf etc. A M. Moleiro codex is, therefore, more than a facsimile book, it is an exact replica, a "First, unique and unrepeatable edition".

The constant search for the most outstanding bibliographic treasures that have survived the passage of time necessarily requires close collaboration with the libraries, museums and archives where they are zealously safeguarded. All our facsimile editions have been carefully selected. They are singular codices not only in terms of the great beauty of their illustrations – a source of uplifting pleasure for the senses – but also due to their historical and artistic importance within the culture of the western world.

To date we have created exact replicas of bibliographic gems belonging to the Metropolitan Museum of Art, New York, Museo Arqueológico Nacional, Madrid, Biblioteca Francisco Zabálburu y Basabe, Madrid, Diocesan Museum of Art, Gerona, National Library of Russia, St Petersburg, Toledo Cathedral, Casanatense Library, Rome, Biblioteca Nazionale Marciana, Venice, Bibliothèque nationale de France, Paris, The British Library, London, Museu Calouste Gulbenkian, Lisbon, The Morgan Library & Museum, New York, Metropolitan Cathedral, Oviedo... As you browse our web site, you will see the institutions that house the original manuscripts.

The best way to appreciate the quality of our work is, of course, to view our facsimile editions or exact replicas and see that not only do we match the colour and thickness of the parchment but also its feel and even the smell which these treasures have acquired over the years. In short, we do what others do not. Our editions are unique and unrepeatable and limited to 987 copies individually numbered and accompanied by a notary's statement confirming their exclusive nature. Each "First, unique and unrepeatable edition" is protected by a leather case and accompanied by a commentary volume written by experts in medieval history, the history of art, codicology and other pertinent areas enabling the illuminated manuscripts to be fully understood.

If any of these treasures has caught your eye, please do not hesitate to request our FREE CATALOGUE. We will be delighted to send you one. We hope you enjoy this glance at the fascinating history of manuscript illumination.
Manuel Moleiro
Exhibitions
We invite you to conferences, exhibitions, fairs, etc. where you can discover the art and wisdom contained in the illuminated manuscripts of the Middle Ages and the Renaissance. At almost all of these events you will be able to browse through our "almost-originals" at your leisure, folio by folio.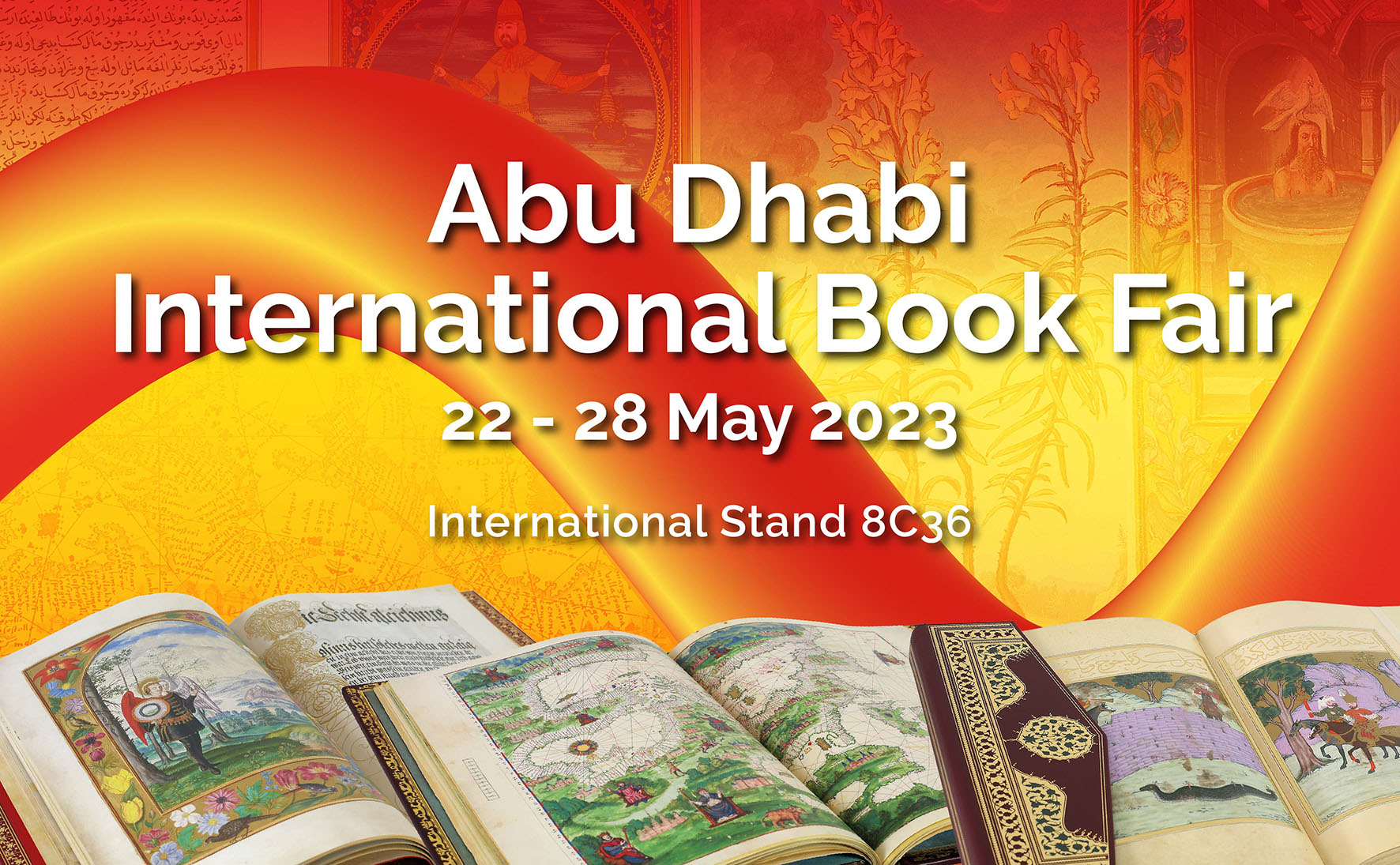 Abu Dhabi International Book Fair
Abu Dhabi National Exhibition Centre
Join Moleiro at the Abu Dhabi International Book Fair, a key event for book lovers and the publishing industry in the MENA region and the Arab world in general.
M. Moleiro in the international press, a prestige built up from the very beginning... The Times, Le Monde, Herald Tribune, Frankfurter Allgemeine Zeitung, El Universal, Expresso, El País, etc. speak about us...
M. Moleiro Editor, S.A.
Travessera de Gràcia, 17-21
E08021 Barcelona (Spain)

España (+34) 932 402 091
USA (+1) 646 543 9905
UK +44 (0) 20 3287 5175
France +33 (0)1 83 75 34 43
Travessera de Gràcia, 17-21
08021 Barcelona (Spain)
If you want to join the M. Moleiro Editor team, please send your resume to be considered for future vacancies.